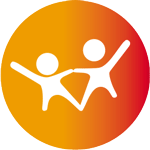 Education for the human being
It's urgent that human beings learn from an early age to express their own humanity and are capable of living in solidarity, equity and nonviolence.  Postnatal learning is essential for this to happen; education received in the first years marks a large part of ones future.
The ultimate aim of education for nonviolence is to give people the capacities that can contribute to society in terms of growth and development for all, people without violence, consistent, strong and with solidarity.
This education must be integral, permanent, shared, community-based, founded on the centrality of every person and on nonviolence as a methodology of action and as a way of life.
For many years, currents of thought, pedagogical movements, thinkers, academics and individuals have been moving in this direction that humanists have synthesised in the ideal of the "Universal Human Nation".  It's necessary and urgent that these people come together, interchange experiences and work together to bring out this new model of social organisation and education.
Ultimate aim: the creation of an education network for a Universal Human Nation
We propose that this forum leads not only to looking for the common points of the many realities that work in the field of education for the full development of human beings, but also to the construction of a truly international network of associations, institutions, schools and individuals that have the intention to research, experiment, build, and spread a type of education that affirms our "humanity" as the central value, an attempt to surpass discrimination in all its forms.
PROGRAM:
SATURDAY 12 MAY
h. 10.00 -11.45

ROUND TABLE: FRAMEWORK OF HUMANIST AND NONVIOLENT EDUCATION AND WHY WE NEED IT
Prof. Mario Aguilar – Professor, author and president of the Chilean Teachers' Association
Who is he that we are educating?  Universalist humanist education'.
Prof. Piero P. Giorgi – Neuroscientist, professor, researcher at the Peace Centre of the University of Otago, New Zealand
Prepare children for non-violence in the early years of life.
Prof. Tiberio Feliz Murias – Professor of the Faculty of Education Sciences at the National University of Distance Education (UNED).
Social function of the UNED's Center for Attention to University Students with Disabilities.
Moderator: Consuelo Fernández, teacher and educational psychologist, member of Copehu and Mundo sin Guerras y sin Violencia.
h. 4.00 – 5.45 PM Sala de Columnas
PRESENTATION OF SIGNIFICANT PROJECTS AND EXPERIENCES IN THE DEVELOPMENT OF NONVIOLENT EDUCATION
GROUP
COUNTRY
EXPERIENCES/PROJECTS
COPEHU
PERU'
Doris Balvin: Copehu's 4-year work experience in collaboration with the Ministry of Education
Mondo Senza Guerre e Senza Violenza and La Comunità per lo Sviluppo Umano
ITALY
Experience in public schools of Milan about an educational practice and construction of ED.UMA.NA (Humanist Education to Active Nonviolence) network between associations, universities and schools
Mondo Senza Guerre e Senza Violenza
GREECE
Humanist and nonviolent educational programs in 27 schools of Heraklion, Crete and Athens
RUN THIS WAY
FRANCE
A run for Peace
Mundo sin Guerras y sin Violencia
SPAIN
Ana Isabel López promoter of the Law for the Defense of Inclusive Education
CEH NOESIS
SPAIN
Isabel Bueno, from manager team of the Nuñez Arenas public school: humanist education for marginalized children
CSU Ticonzero
ITALY
Nonviolence training in various areas
Educ'Art
BELGIUM
Art for an integral education inside a European project
Era Convergencia
SPAIN
Testimony about the resolution of gender violence
Tindaya Educación
SPAIN
Experience for integral coeducation and free education
Elena Simon Rodriguez
SPAIN
Coeducation from the gender point of view.
Sara Tajuelo

Maria Marin

SPAIN
Experiences of emotional development in informal education

Humanizing educational experiences in public centers, neighborhoods and at the Park of Study and Reflection of Toledo
Promotors:
COPEHU (Italy)
COPEHU (Spain)
World without Wars and without Violence (Milan, Italy)
World without Wars and without Violence (Greece)
The Community for Human Development (Italy)
Energia Per i Diritti Umani (Rome, Italy)
Center of Humanist Study "Ti con zero" (Florence, Italy)
Center of Humanist Study "Noesis" (Madris, Spain)
Association "Le Meilleur de Soi" (France)
Run this way (Canada, France)

Related links:
COPEHU, international site
Centro di Nonviolenza Attiva
World without Wars and Violence, international site
Contact: Olivier Turquet

More information and suggestions: