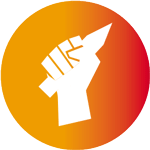 In this moment of crisis, the old world of violence (physical, economic, social, media, interpersonal) is, hopefully, giving its last hits through a worrying racist and fascist drift that affects many countries and is amplified by the misinformation of the media at the service of a centralizing and business minority, which resorts to every means to preserve its power.
The new world expresses itself and grows through the many creative, spontaneous, nonviolent and horizontal movements that have broken into the social landscape in recent times. These movements correspond to a new sensitivity that is expanding especially among young people, but that is also connected to the most inspiring experiences of the past, recognizes the contribution of those who have long fought for peace, nonviolence, human rights, the environment, non-discrimination and so on and welcomes and values diversity. However, the new world is still fragile, fragmented and exposed to defeats and failures that may be inevitable in this time of transition.
For this reason, it is essential to create an international network of independent journalists and activists, who, starting from experiences already underway in various countries, expand to a wider level, finding forms of mutual support, solutions to common problems, participating in campaigns already underway or launching new ones. The choice to create a network that unites these two "categories" comes from the awareness that independent journalists and activists can help each other: journalists need direct and secure sources to counter disinformation, false, manipulated or partial news and activists need media they can trust to report their positions and activities correctly. In addition, several independent media can collaborate by sharing articles, videos, photo-reportage, giving them a wider diffusion than any single media can achieve and activists can strengthen each other by supporting their actions, or create moments in which to highlight the link between the various themes they deal with.
Contact:
Promoters:
Pressenza
Participants (in work):
Pía Figueroa, Pressenza
Program:
The working table "Network among independent journalists and activists" that will take place on Saturday, June 6, 2020 within the European Humanist Forum in Rome wants to be a step forward in this direction, creating a space for sharing, discussion and proposals for the future. It will have an equal and horizontal style, with a brief presentation of each participant and a general exchange, which depending on the number of participants can take place all together, or by dividing into groups and touching on issues of common interest. The aspiration is to leave this day of work not only with greater mutual knowledge and exchange, but also with shared images of the future and projects to be developed together.
Related links:
Pressenza
More information: