There are moments in the history of humanity when women have assumed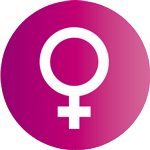 the leadership and have built nonviolent realities: in matrifocal societies where there was collaboration, women's participation in the pacification of Liberia, Women in Black against war, women who have pacified religious conflicts in Bangalore (India), etc., etc. There has been a denigration of life, at the same time as women in society have been discriminated against and violent. We declare that today human life is threatened: by bloody wars, by shortage and appropriation of food, by trafficking in human beings, by the lack of protection of children, by the destruction of the environment… We intend to make visible the nonviolent realities generated by women, in order to develop feminine values so that a deep social and personal transformation can take place simultaneously, allowing the protection of life.
We intend to create a feminine network of nonviolence in which all human beings find their place and which allows us to live in the way we aspire; which awakens the register of the species, the register of protection and faith in the future; which leads us to develop towards the Universal Human Nation. If we women have any power to overcome so much pain and suffering we have to use it!
Organization: Mujeres Humanistas por la Noviolencia
Website: https://protectoras-de-la-vida.jimdofree.com
Contact: Encarna Escribano
More information: